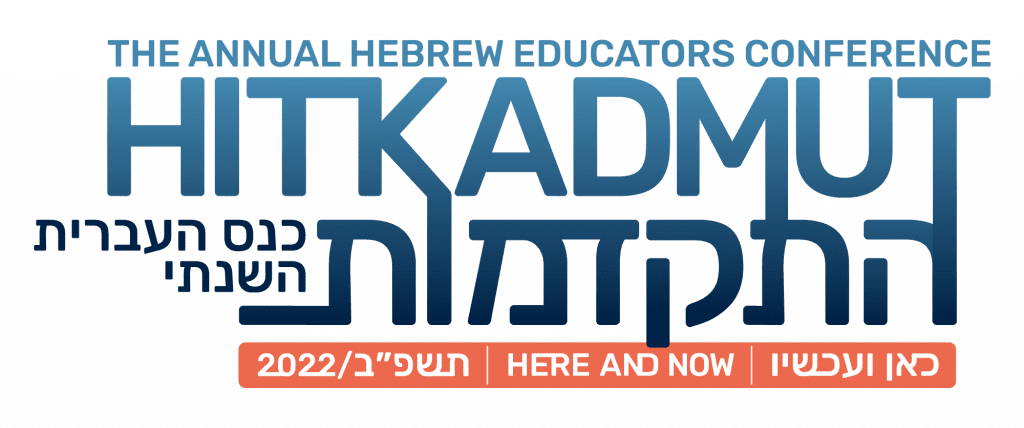 מליאת פתיחה  תפקיד הקלט ברכישת שפה שנייה פרופ' סטיבן קראשן, דניאלה פרידמן,  פני אור
Keynote Plenary Session: The Role of Input in Second Language Acquisition – Prof. Stephen Krashen, with Daniella Friedman and Penny Ur as respondents
מליאה תחום הוראת העברית  State of the Field Plenary
Videos from Hitkadmut 2022
Workshop Block #1:
למה עברית?: משימת העברית של בית הספר
איימי בן דב, טל גייל
למה עברית? : Your School's Hebrew Mission
Tal Gale, Amy Ben Dov
אתגרי החיים בבית הספר לצד הקורונה 
יעל אלון, שושי בקר, ליאת פנסו  
The challenges of school life together with Covid
Shoshi Becker, Yael Alon, Liat Penso
כתיבה הופכת אותך לחכמ/ה יותר: "תהליך היצירה"
פרופ' סטיבן קראשן
Writing Makes You Smarter: the "Composing Process"
Prof. Steven Krashen
קייל אניס, ד"ר סקוט גולדברג וליאת קדוש
Data collection and pedagogic discussions
Kyle Ennis, Scott Goldberg, Liat Kadosh
ורד גולדשטיין, רחל רז, פרידה רובינס
Hebrew in Early Childhood: Why and How
Frieda Robins, Vered Goldstein, Rachel Raz
עברי דבר עברית: איך לטפח מיומנויות הדיבור בשיעור עברית
 פני אור
Getting them to talk in Hebrew in the Hebrew lesson 
Penny Ur
Hitkadmut Roster
(In Process)
Workshop Block #2:
אסטרטגיות מערכתיות לשילוב עברית בכל בית הספר
ג'ודי פינקלשטיין-טף, הרב שי גוטנברג, הרב מיטשל מלקוס, ד"ר דבורה סקולניק-איינהורן
The Heads Role in Advancing Hebrew Throughout the School  
Rabbi Mitchel Malkus, Judy Finkelstein Taff, Rabbi Shaye Guttenberg, Dr. Deborah Skolnick-Einhorn
גילה אזרד, טל ג'אנר-קלאוזנר, ניר ריקמן
Using Research to Lead
Gila Azrad, Tal Janner-Klausner, Nir Rikman
ד"ר אסתי גרוס
Diversity Equity and Inclusion (DEI) in the Hebrew Classroom
Dr. Esty Gross
מתודולוגיות התלמיד-במרכז מגוונות להוראת עברית מודרנית, חגיגית ומקראית
שרון פרונדל, עדי בראל
How to bring the different Hebrews into the classroom
Sharon Fruendel, Adi Barel
שימוש בתרבות ישראלית עכשווית לקידום לימוד העברית
תמר ציטרין, מיק פיין, ענבל בראל
Using contemporary Israeli culture to advance Hebrew learning
Mick Fine, Tamar Cytryn, Inbal Barel
שפה לכולם – הוראת שפה שנייה לתלמידים עם לקויות למידה
איירין ברואר קונינדייק
Language for Everyone – Teaching Second Language to Students with Learning Disabilities
Irene Konyndyk
Academic Year 2022-23:
Sunday and Monday, January 29 & 30, 11:00 – 4:00 Eastern each day, virtual conference.
Academic Year 2023-24:
Sunday and Monday, November 12 &13, in person, location, and exact timing to be determined over next six months.