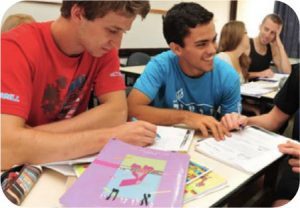 Whether the setting is a day school, a summer camp, or a part-time setting, Hebrew teachers are at the heart of an excellent education. HATC began its work with this focus and adopted an approach to teaching Hebrew that focuses on developing learners' authentic ability to function in the language in real life. 
HATC continues to build upon this foundation, spreading our message through model schools, professional development intensives, advocacy and partnerships with thought leaders in a range of settings.
Today, Hebrew at the Center is a central address for supporting Hebrew language instruction and celebrating Hebrew culture, bringing together practitioners, funders, academics, committed laity and enthusiasts dedicated to promoting a love for Hebrew literacy around the world.
PROVIDING ESSENTIAL SUPPORT FOR EACH KEY CONSTITUENCY
Deepen Your Knowledge, Acquire New Tools and Skills, and Increase Student Outcomes
Free Resources for Hebrew Teachers made available as part of HATC's Covid Response
Full and Half-Day Workshops (Topic Specific):

The Proficiency Approach: Theories and Methodologies
Understanding our Learners Through the ACTFL Levels of Performance
Teaching From Anywhere
Differentiated Instruction
Digital Pedagogical Literacy
and more!

6-8 Week Online Courses in partnership with Hebrew College
Individualized Online Coaching
For more information, contact Rina Kreitman, Director of Professional Learning.
Professionalize and Support Your Team, Build Increased Leadership Capacity and Create Systemic and Sustainable Departmental Structure
Learn about our membership program, an excellent package for your entire staff at a value price!
Individualized PD for Hebrew Faculty Pre-service and Inservice throughout the year (single sessions or workshop series)
Hebrew Leaders Professional Learning Community (HLPLC)
Individualized or Group Hebrew Faculty Coaching
Individualized Hebrew Leader Coaching
Consulting in Curricular Mapping/Scope and Sequence, Student Assessment, and Staff Oversight and Assessment
Hebrew at the Center Membership – Comprehensive Support for Hebrew Team (including Hebrew Teacher Professional Learning Community – HTPLC)
For more information, contact Liat Kadosh, Director of Embedded Services
PRINCIPALS & HEADS OF SCHOOL
Actualize your School's or Organization's Hebrew Mission, Analyze Assessment Data in Order to Make Informed Decisions, and Leverage Visibility of your School's Hebrew Program (internally and externally)
School-wide Hebrew Program Baseline Assessment
Hebrew Mission Development
Consulting on Integration of Hebrew into School-Wide Culture
Consulting on How to Leverage Hebrew Student Assessment Data and Analysis Focusing on Recruitment and Retention
Parent-Focused Workshops Centered on Second Language Acquisition, Understanding the Role of Hebrew Language and Culture in Jewish Identity, and Advocacy for Hebrew in the Larger Community
Board and Donor Engagement to Support Excellence in Hebrew
For more information, contact Tal Gale, Chief Program Office
PARENTS, COMMUNITY LEADERS, HEBREW ENTHUSIASTS
Transform Your Community Through Strengthening Jewish Identity
Materials to support your child with Hebrew and online opportunities for Hebrew Learning
Consulting with your school-wide leadership or organizational board on Hebrew Engagement and making the case for Hebrew
Community-Leader focused workshops centered on "Why Hebrew", understanding the role of Hebrew language and culture in Jewish identity and advocacy in the wider community
Community-wide baseline assessments of Hebrew education
Support in identifying and developing financial resources to upport Hebrew
Forums to engage in Hebrew language and culture programming online
Opportunities to join Hebrew at the Center's efforts in North American and abroad
For more information, contact Rabbi Andrew Ergas, CEO