PROFESSIONAL LEARNING OPPORTUNITIES
"The golden key to Jewish education is the Hebrew language."
~ Chaim Nachman Bialik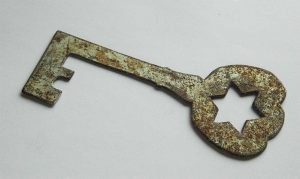 מפתח הזהב של החינוך העברי הוא הלשון העברית
חיים נחמן ביאליק ~
Hebrew at the Center believes excellent teachers and leaders are at the heart of excellent schools and invests heavily in supporting the professional development of Hebrew teachers and leaders in every setting.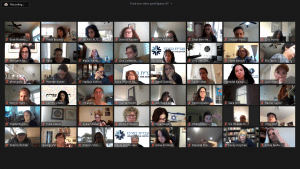 ארגון עברית במרכז מאמין שמורים ומנהיגים מיומנים מהווים מרכיב חיוני בהצלחה של בתי ספר ולכן שם לו למטרה לתמוך ולקדם למידה מקצועית בכל מוסד חינוכי שבו הם עובדים. פיתחנו עבורכם מספר אפשרויות למידה בתקופה הנוכחית שיותאמו לגילאי לומדים שונים ומטרות שונות
In partnership with the field, Hebrew at the Center has developed a framework to inform and elevate the field of Hebrew education. This framework introduces the range of fields, subjects, and topics that we understand to be involved in and required for an informed pedagogue of Hebrew and to function effectively in a Hebrew classroom.  
The areas that HATC identified as essential for Hebrew teachers to have knowledge in are divided into four categories, which include: general education, language education, Hebrew language education, and personal and professional growth. These categories are further divided into ten Core Competencies. Each competency serves as an important topic for Hebrew language learning and are visually presented above. These ten Core Competencies inform HATC workshops and courses, ensuring that Hebrew language educators have access to well-rounded professional learning opportunities.  
The Competencies    היכולות
Theories & Philosophies of Education
תיאוריות ופילוסופיות של החינוך
Understanding Our Learners
הכרת הלומד
Classroom Community
יצירת קהילה לומדת
Curriculum Design
תכנון ופיתוח תוכניות לימוד
Second Language Acquisition
רכישת שפה שנייה
Second Language Pedagogy
הוראת שפה שנייה
Assessment & Measurement
הערכה ומדידה
Knowledge of the Language
ידע לשוני וידע על-לשוני
Hebrew & Israeli Culture
תרבות עברית ותרבות ישראלית
Personal & Professional Growth
צמיחה אישית ומקצועית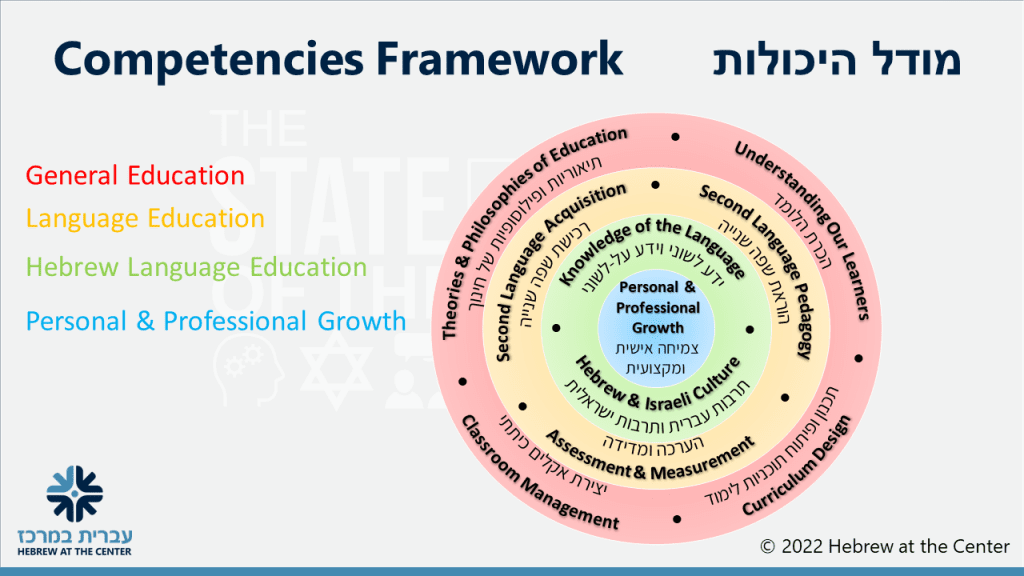 Professional Learning Options
New Hebrew Teacher Boot Camp
Introduction to the language teaching field and practical preparation for teachers' first days at school. Participants will leave with tangible lesson plans and ideas for additional lessons. Teachers will be given the opportunity to work collaboratively. The goal is for participants to gain theoretical and practical tools to enhance their work in the field.
Dates for Summer 2023 TBD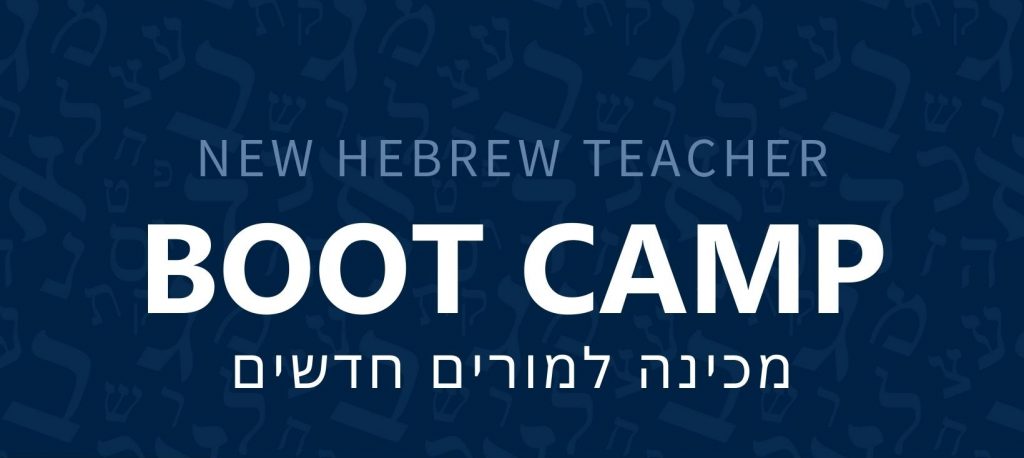 מבוא לתחום של הוראת שפה והכנה מעשית לימים הראשונים של המורה בבית הספר. בסוף ההכשרה המשתתפים יצאו עם מערכי שיעור מוחשיים ורעיונות לבנייה של שעורים נוספים. העבודה תהיה בעלת אופי שיתופי והמורים ישתפו פעולה עם מורים אחרים. בסוף ההכשרה, המשתתפים יצוידו בכלים תיאורטיים ומעשיים כעזר לעבודתם בתחום
Hitkadmut: The Annual Hebrew Educators Conference
Hitkadmut: The Annual Hebrew Educators Conference supports Hebrew language teachers, Hebrew leaders, and the school professionals who support them and offers the opportunity to engage in quality, leading-edge professional development.
התקדמות: כנס העברית השנתי
התקדמות – הכנס השנתי לנשות ואנשי חינוך ולעוסקים בהוראת עברית, תוכנן במטרה לתמוך במורים, במחנכים ובמנהיגי בתי ספר העוסקים או המעוניינים בהוראת עברית, על מנת לעודד התפתחות וצמיחה מקצועית
President Isaac Herzog Addressing Hitkadmut 2022
Complimentary Workshops and Seminars
HATC has created and fully-subsidized virtual workshops open to professionals in the field, addressing current pedagogical and strategic needs.
NOTE: All sessions will be recorded and available for viewing at a later date; by registering for the live session, participants are agreeing to be recorded for these purposes
הזדמנויות להתפתחות מקצועית ללא עלות
צוות ״עברית במרכז״ מציע מפגשים וירוטואלים ללא עלות לקהילת המורים/ות הרחבה המתייחסים לצרכים פדגוגיים ואסטרטגיים עכשוויים.
לתשומת לבכם: כל המפגשים יוקלטו ויהיו זמינים לצפייה לקהל הרחב במועד מאוחר יותר.  בהירשמכם למפגש הוירטואלי, אתם מביעים הסכמה גם לכך שתוקלטו לצרכים שהוזכרו. תודה מראש.
עברית במרכז בשיתוף פעולה עם
HATC in partnership with

Effective educators constantly seek to improve their students' achievements. Exemplary instruction requires ongoing learning and refinement of the content knowledge and teaching skills through professional development processes . Teachers need many and varied opportunities where they can absorb new information and apply it in the classroom effectively. As part of a broad array of Hebrew at the Center meaningful learning offerings, the six-week online courses allow teachers to dive deeply into one area of interest. As a cohort of deeply dedicated Hebrew educators, participating teachers will share their successful practices and learn new practices form experts in the field of Hebrew as-a-Second Language, experiment with their application, and re-examine them together in light of the impact on their students' Hebrew achievement. It is HATC intention to offer online courses for all ten Core Competencies, allowing Hebrew language educators to have comprehensive knowledge and skills to provide the best Hebrew experience for our students. 
Tuesdays, October 25 – November 29, 2022, 8 – 9:30 PM EST. Instructor is Dr. Esty Gross. If you are a new teacher, switching grade levels, or an experienced teacher who notices that your current classroom management plan isn't working, you may need more than just a new strategy from a colleague or the internet. You need a classroom community support plan that is informed by research. In this course we will review and analyze examples of classroom policies, procedures, and norms for student engagement and draft a plan to support equitable student engagement that meets your students, your style and your school's policies and culture. Cost for the course is $400, 10% off for Prizmah and HATC members. Core Competency – General Education/ Understanding Our Learners. 
Are you searching for rationale and guiding principles to make an educated selection of authentic materials related to Israeli culture and society?  Or, equally important, do you need insight on instructional practices and protocols to help facilitate meaningful discussions about social issues concerning diversity, equity, and inclusion in Israeli society.  In this course, Hebrew teachers will learn how to raise their students' awareness toward issues of personal and collective identity and help cultivate change agents who impact their local Jewish communities, Israeli society, and the world, using Hebrew language Cost for the course is $400, 10% off for Prizmah and HATC members. Core Competency – Hebrew Language Education/Hebrew and Israeli Culture.  
If you would like to understand the fundamentals of language acquisition, that is, how language is learnt and acquired, this course will help you establish a strong language education foundation. By the end of this course, teachers will be able to understand theories of second language acquisition, including what is possible in the language classroom, as well as the processes that learners go through to learn a language. We will discuss fundamental ideas as well as review the acquisition of different linguistic skills from sound through vocabulary, structure, and use of word in context. We will also discuss optimal pedagogical methods as well as discuss physiological, more specifically, neurological aspects of language acquisition and how language alters the brain and our perception. Cost for the course is $400, 10% off for Prizmah and HATC members. Core Competency – Language Education/Second Language Acquisition 
Click here for more information and to register.
Membership and Membership Zone
SUPPORT YOUR STAFF WITH HATC MEMBERSHIP
Whether you use an off-the-shelf curriculum or an in-house program, Hebrew at the Center (HATC) Membership provides a robust package of support, resources, and professional development for your entire Hebrew faculty. Membership includes individualized coaching and discounted services to meet the specific needs of your school, at a value price that will strengthen your Hebrew program. Utilizing HATC's vast field expertise in Hebrew language education, we also provide a range of other services including personalized support and coaching, New Hebrew Teacher Boot Camp training, curriculum mapping, and more. Benefits include:
Hebrew Educators Learning Circle

Hebrew and Leadership Coaching

Onsite Visit from a HATC Senior Educator

Deep Discounts and Additional Membership Perks
 תמיכה לכל המחלקה לעברית
המנוי היחודי של עברית במרכז פותח עולם שלם של כלים ושירותים לתמיכה בצוות העברית ומנהלי מחלקות או תכניות לעברית. בין אם אתם נעזרים בתכנית לימודים קיימת או שאתם כותבים אותה, הצוותים שלכם ייהנו מהמומחיות הנרחבת של צוות עברית במרכז בתחום לימוד השפה העברית. הכלים שלנו עוזרים למורים למרב את שעות הלמידה כדי לבנות תוכניות עברית מותאמות לתלמידים ולחזון הבית ספרי שלכם. אנו מציעים גם תמיכה אישית וגישה לקהילה מקצועית לומדת של אנשי חינוך בעלי תחומי עניין דומים.
על מנת לתמוך בכל צוות ההוראה לעברית בבית ספרכם/ן, עברית במרכז מציע מנוי חברות הכולל את השירותים הבאים:
מאגר משאבי למידה למנויים בלבד.

גישה לקהילה מקצועית לומדת.

הדרכה בעברית ובניהול.

ביקור אצלכם על ידי מחנך בכיר של עברית במרכז

מספר הטבות נוספות הכוללות: הנחה על הערכות לומדים ותכניות משותפות, הזדמנויות לשיווק משותף והנחות על הדרכות.
Individualized School Support
LET US KNOW HOW WE CAN SUPPORT YOUR WORK
Let us know if there are other areas, not addressed here, where you feel we could support you, your staff or your work.
נשמח לשמוע מכם אם יש תחומים נוספים שלא הוזכרו כאן שבהם תרצו לקבל תמיכה או ייעוץ
View Video Recordings of Prior Sessions
Hebrew Teacher Webinar: Narratives for Reporting Students' Outcome
Effective Covid Teaching Strategies – Celebrating Successes, Learning from Peers & Looking Ahead
Finding Hebrew Teachers – A Communal Challenge (Co-Sponsored with Prizmah)