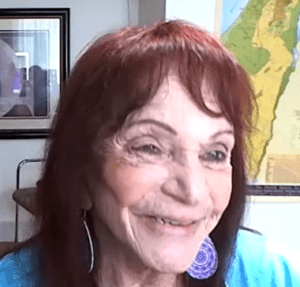 All Hebrew teachers who responded to The Hebrew Teacher Survey were eligible for a raffle to win a $100 Amazon Gift Card. Through a random drawing, Nily Katriel was the lucky winner! Results of the Hebrew Teacher Survey will be analyzed and shared at the Hitkadmut Hebrew Educators Conference in November, 2023, and in the next State of the Field Report on Hebrew language education in Jewish Day Schools.
So who is Nily Katriel?
Nily is a veteran Hebrew and Judaic Studies teacher at Temple Beth Am in Pinecrest, Florida, in both the religious school and the Rambam Day School. A native of Tel Aviv, veteran of the IDF, and graduate of Beit Levinsky (Elementary Education) and Tel Aviv University (BA in Bible and Art), Nily's career in Hebrew language education began in Venezuela in the 1970's. Nily's husband was sent on Shlichut by his employer, Solel Boneh, to Caracas, where Nily put all of her talents as a teacher, artist, and student of TaNacH to good use. Arriving with no Spanish language background to a community where no one spoke English, Hebrew was the common language between Nily and her students. She had been warned that without Spanish, she would fail, but the school needed a teacher and Nily needed a job, so both took a chance on each other.
Nily set out to speak, pantomime, and love her way into the hearts and minds of her Venezuelan-Jewish students, a group of students she will never forget and who never forgot her. Until this day, Nily corresponds with many of her first students, who are now in their forties and parents of their own adolescent children, and those correspondences continue to flow in written and spoken Hebrew.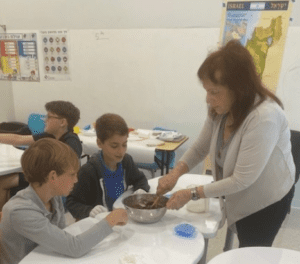 Due to political turmoil, most of the Venezuelan Jewish community has since disbursed. Nily's students relocated to other destinations in the Western Hemisphere and in Israel. After 14 years of living and working in Caracas, Nily's family moved to Miami in 1989, and ever since, Nily's career has continued to flourish at Temple Beth Am.
One turning point and highlight of Nily's career was spending a summer studying Hebrew language acquisition and teaching at Hebrew University of Jerusalem's School of Education, in a cohort of teachers that gathered from all over Latin America. Professor Shlomo Haramaty became Nily's Hebrew language hero, and his methodology grabbed and captured her heart. Based on Haramaty's system of language acquisition, Nily wrote a textbook, בלון של צבעים,, that became the foundation of her Hebrew language teaching for years to come. With persistence, the book was finally published in 2015. It's charming stories are timeless and introduce a wealth of vocabulary and grammatical structures that lend themselves to Hebrew language proficiency. Beginning with simple line illustrations and two-word sentences, the characters develop, vocabulary grows, sentences become longer, and students learn to read and speak Hebrew. Nily resisted creating a "workbook" to accompany the text. She always preferred teaching from self-made materials that she created for her students, and strongly believes that each teacher needs to do the same, based on the needs of their students at each particular moment in history.
Nily Katriel is one of the thousands of heroic Israeli teachers whose partners' careers led them to successful Hebrew language teaching careers in the Diaspora. Nily has dedicated her entire adult life to sharing her love of Torah, Israel, Hebrew and Israeli culture, and Hebrew language with Jewish children in Caracas and Miami. Today, Nily is proud to call her beloved daughter, Shelly Rauchwerger, a respected and valued colleague at Rambam Day School Temple Beth Am. When asked for advice for young Israelis beginning careers as Hebrew teachers in the Diaspora, Nily said, "teach with love, love, and more love."