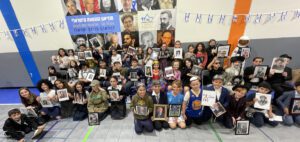 At Harkham Hillel Hebrew Academy, a Modern Orthodox and Zionist Jewish day school for children in ECE through grade 8 based in Beverly Hills, California, Hebrew education is fully and seamlessly integrated with Zionism, Israeli culture, and Jewish and world history. The school's philosophy is that Limudei Eretz Yisrael and Hebrew language are completely intertwined, and the chief implementer of this philosophy is Dalia Golan, Director of Harkham Hillel's Ivrit and Israel Education Department. 
Years in the making, Harkham Hillel created its own in-house, spiraled curriculum for grades 1 through 8. The academic year is divided into 5 thematic units, with spiraling and layered content each year, so that over the course of years, students have learned a large body of facts about Israel's geography, history, government, foundations, culture, and people. The entire Israel curriculum is taught in Hebrew by Israeli teachers, in an immersive environment supported by experiential education led by young Israeli emissaries, over the course of the entire academic year. However, the focus is not on teaching Hebrew language, rather, it is about teaching the content of Limudei Eretz Yisrael. No one at Harkham Hillel refers to Hebrew as a second language or as a foreign language, rather they speak of Hebrew as "S'fat HaAm," the language of the Jewish people.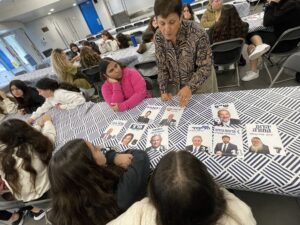 The younger the child is when language acquisition begins, the better, and most students at Harkham Hillel get an early start. Harkham Hillel has its own pre-school with Israeli co-teachers in every class from the 2's through kindergarten. Classic Israeli children's literature and musical standards, which are filled with sophisticated vocabulary and grammatical structures, are part of everyday learning. By the start of 1st grade, Harkham Hillel early childhood graduates can recite by heart dozens of classic Israeli stories and can sing מאה שירים הראשונום "The First 100 Songs." Since the vast majority of Harkham's elementary school students rise the ranks from their own pre-school, it is possible to conduct school in Hebrew in a natural and authentic way. The elementary and middle school spiraled curricula are revised and updated every year to ensure that that Israeli culture in the school remains current. Veteran Israeli teachers who have been living for a long time in Southern California rely on the authentic and contemporary cultural knowledge of the youngest members of the Harkham Hillel faculty: 4 young women who come to work at Harkham Hillel for one year as part of their 2-year Sherut Leumi, National Service. These 19-year-old women enthusiastically educate the students at Harkham Hillel, through informal and experiential education that carefully aligns with the school's formal curriculum. 
The eighth-grade curriculum has two unique foci – Masa Culinary: A journey through Israel's Culinary Culture, and Israel education with the lens of Israel's achievements and conflicts – both culminating during the 8th grade trip to Israel at the end of the school year. Harkham Hillel's leadership believes it is essential to focus on Israel and its conflicts, both external and internal, so that their graduates understand that Israel is a modern, democratic, Jewish, yet imperfect nation. Says Dalia Golan, "it is essential that prior to beginning high school, our graduates understand that not all is well in Israel. Our goal is for students to love 'the real Israel' for all that it is." Before Israeli elections, the positions of all political parties are presented, and the resulting makeup of the Knesset, coalition, and opposition are studied after elections are concluded. Teachers present the broad scope of ideological beliefs in Israel without sharing their own political opinions.  
Masa Culinary is a powerful and delightful organizing theme, after many years of studying the multiple layers of "Israel and its people." The multitude of influences that converge in Israeli cuisine are delicious. They are also a powerful metaphor for Israel: a complex, nuanced melting pot of the Jewish people. While travelling through Israel, the 8th graders love taste-testing and perusing the aisles of Israeli supermarkets, processing through their senses the layers of Jewish history and Israeli culture. 
Between visiting the sites of Israel about which they have learned throughout their lives and eating the polyglot of Israeli cuisine, the Harkham Hillel 8th graders can be heard singing Israeli hit songs, in Hebrew, at the top of their lungs. They are not singing along with the radio of their tour bus in a second language, nor in a foreign language. They are singing, with love and joy, in S'fat HaAm, the language of the Jewish people.