We are honored to welcome Milken Community School, a middle and high school in the Bel Air area of Los Angeles, as new Members! Enjoy reading (and watching a video) about the inspiring Hebrew language journey of Milken's esteemed History Teacher, Maxime Gilbert, and his Hebrew tutor, Dr. Carmit Burstyn, who serves as Hebrew Instructional Leader at Milken Community School.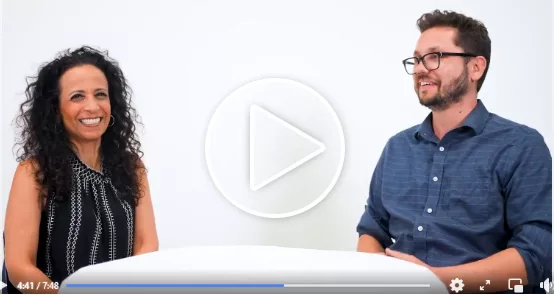 Maxime Gilbert, a French-born history teacher, came to the US to teach 11th and 12th grade history at Milken. When he accepted the position, Maxime was not even aware that Milken was a Jewish school, only that it was a private school in LA. Landing a teaching job at Milken turned out to be serendipitous in so many ways. 
Since his parents are completely secular, Maxime grew up knowing the "linguistic codes" of Judaism but without any formal Jewish education. However, Maxime possessed a strong intellectual affinity for Judaism that existed in his soul as a void for over 30 years. At Milken, Maxime met many inspiring faculty members, including "Rabbi BK," (Rabbi Gordon Bernat-Kunan), who Maxime describes as "an intellectual power-house" and Maxime began to fill that void. He devoured many books about Judaism but quickly concluded that without knowing the Hebrew language, there was a significant barrier to delving deeply into Jewish texts and knowledge. Maxime quietly let it be known in the Milken faculty room that he was interested in learning to read the Torah in Hebrew. In jumped Dr. Carmit Burstyn, Chair of the Hebrew language department, offering to become Maxime's tutor. 
However, Carmit rejected the premise of Maxime's initial request to teach him to read Hebrew, with no regard for learning the other language competencies. Carmit shared that, "Hebrew is a living language and in order to read it, you need to really KNOW it, including how to orally comprehend, write, and even speak the language." Carmit should know. Her doctoral research was on high school students' motivation to learn Hebrew language, and for 90% of the 11th and 12th grade student participants in her study, connecting to identity, and specifically to Jewish identity, was a primary motivator.  
Maxime accepted Carmit's condition to learn Hebrew as a living language. Because Milken is in LA, outdoor spaces are used as classrooms. And because Carmit and Maxime had agreed to devote two of their prep-hours per week on Maxime's studies, it soon became obvious to students and faculty members that Maxime had become Carmit's Hebrew student. For Maxime, learning Hebrew is very personal, and very emotional. Doing so in such a public way has fueled the motivation of his students, and indeed, of the entire Milken Community.